Our Financial Planning Process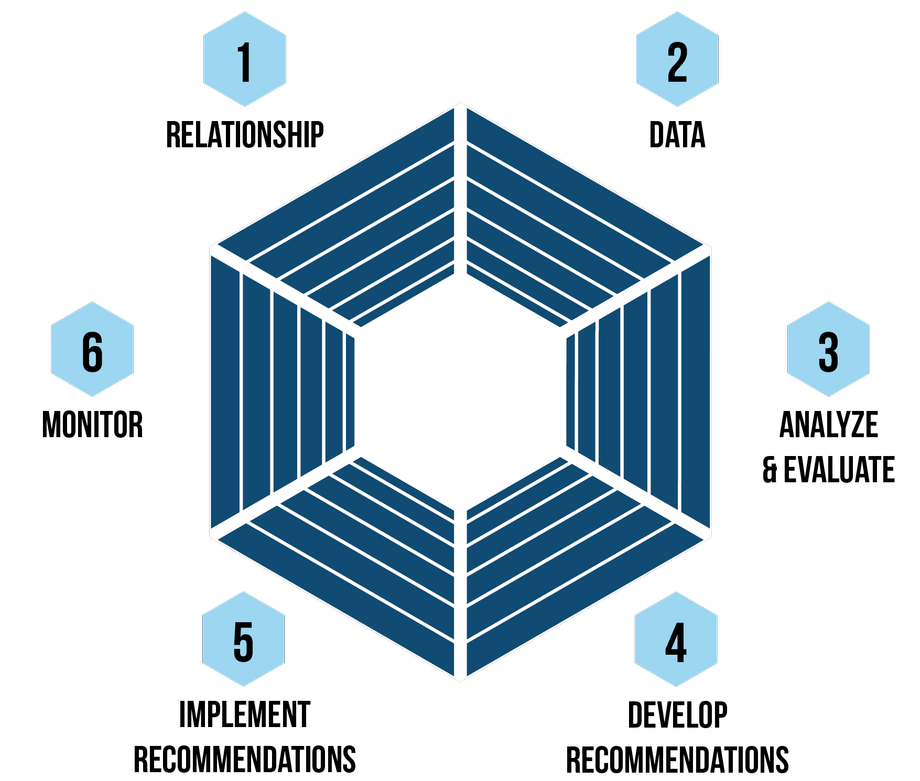 Here are the Six Steps of Financial Planning we follow:
1. Establish and Define the Client-Planner Relationship
Solid planning relationships begin with a meeting between each party to establish what you and your family's financial goals are. The planner will explain their financial planning services and disclose all methods of compensation. The planner will define the respective roles and responsibilities for both parties to work toward an effective outcome. The planner applies skills and knowledge to help you pursue financial independence and seek your financial goals. In exchange, you agree to compensate the planner a predetermined fee for the financial planning engagement.
2. Gathering Client Data and Including Goals
The Planner will need your financial information to gain a better understanding of your financial position. It is important for you to identify your personal and financial goals. We will discuss your time horizon and assess your risk. The most successful plans are created upon using realistic and obtainable goals.
3. Analyze and Evaluate your Financial Status
Using your financial data, the planner will analyze your current situation in terms of assets, investments, liabilities, risk, insurance coverages, tax status, employee benefits, and cash flow. Review all subjective data to provide the facts greater context and direction. The Planner will evaluate whether or not you can meet your goals, needs, and priorities given the current course of action.
4. Develop and Present Recommendations
We will consider the various options available, given your financial position, personal situation, and investment time horizon and risk. The financial planning process is unique to each client. Effective presentation of recommendations helps you adopt an integrated approach to fit your financial objectives and helps you understand the actions you need to take to get there. Throughout this process, the planner will listen to your concerns and make revisions to recommendations accordingly.
5. Implement Written Financial Planning
Making sure you have a clear understanding of the recommendations, you and the Planner will determine the best way to implement the recommendations. Implementation may include coordinating with other professionals such as your attorney and CPA.
6. Monitor Recommendations
Sound financial advice provides direction and guidance. Financial planning does not end with implementation of the plan. Financial planning is an ongoing process which requires goal tracking and engagement from the client. The final step of the financial planning process is to review your progress and update your financial plan.